In a survey of American adults aged 40 and older, 84% revealed that they had been solicited to participate in a potentially fraudulent offer, and 11% had lost money after engaging in such an offer.1
The root of this problem — besides the endless efforts of criminals — seems to be naiveté and unwarranted trust on the part of those who are deceived. A large percentage of respondents were unable to spot fraudulent sales pitches and found the unrealistic promises appealing (see chart). Although people of any age can be victims of fraud, criminals are more likely to target those who are 65 and older; this age group is also more likely to lose money when they are targeted.2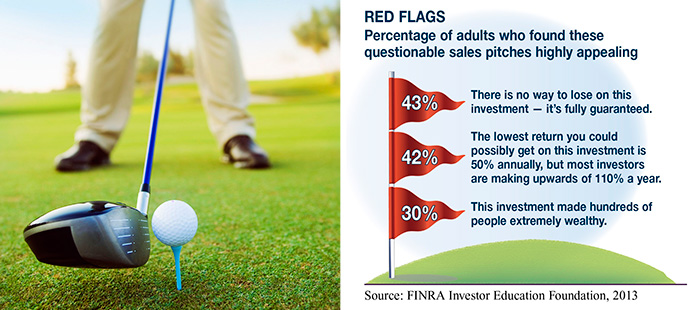 Fraud is complex, and a list of fraudulent schemes could fill many pages. Here are three basic principles to keep in mind.
If an investment sounds too good to be true, it probably is.
Investing is a long-term process that requires research, patience, and rational decision making. Investments with the potential for higher rates of return typically have a higher degree of risk and the potential for loss of principal.
Never send money based on the promise of getting money.
This type of scam may take many forms. Common examples include: (1) an email or letter promising a large amount of money in return for a small up-front fee; and (2) an authentic-looking check that you are asked to deposit in your account, keep a percentage as a fee, and wire the balance to an address. Even if your bank initially credits your account, you could be liable for the money if the check is found to be fraudulent.
Just because it looks official doesn't mean it is.
You might receive a letter, email, or phone call that appears to be from the IRS or a federal, state, or local government agency, either demanding a payment or seeking personal information. You might even be directed to an official-looking website. If you have any doubt, contact the agency directly. Never provide personal information until you're satisfied that you're dealing with a legitimate agency that needs the information.
Regardless of how a fraudulent scheme is presented, your best defense may be a good dose of skepticism and common sense.
1–2) FINRA Investor Education Foundation, 2013
The information in this article is not intended as tax or legal advice, and it may not be relied on for the purpose of avoiding any federal tax penalties. You are encouraged to seek tax or legal advice from an independent professional advisor. The content is derived from sources believed to be accurate. Neither the information presented nor any opinion expressed constitutes a solicitation for the purchase or sale of any security. This material was written and prepared by Emerald. Copyright 2014 Emerald Connect, LLC.